EUABOUT
WEEKLY
SELECTED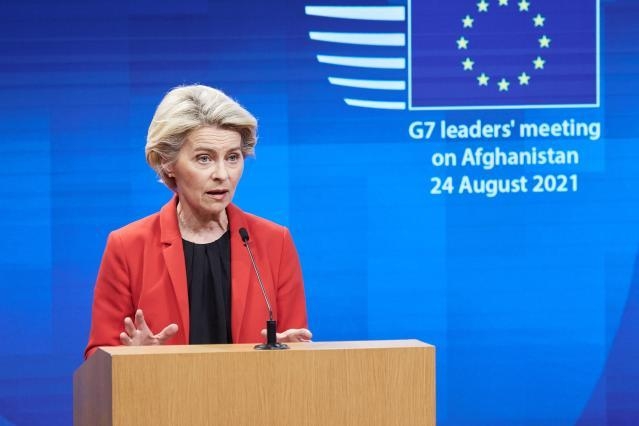 DISCUSSED THE EUROPEAN SUPPORT PLAN FOR AFGHANISTAN AT THE G7 LEADERS' MEETING
During last G7 meeting on Afghanistan leaders discussed evacuations, immediate humanitarian aid, longer-term development assistance and possible scenarios for refugees in need of protection.
President von der Leyen declared that EU operations on medical facilities, food distribution, emergency water supply and sanitation are mostly still running but latest events create significant additional needs.
With this mind the Commission will propose to almost quadruple the humanitarian aid coming from the EU budget. The initially planned EUR 50 million will now be increased to over EUR 200 million for the year 2021. This will help meet the urgent needs of Afghans both in Afghanistan but also of course in the neighbouring host countries.
The Commission President, with a view to resettlements, concluded highlighting the need for the Member States and the European Parliament to find an agreement on the proposed Pact on Migration and Asylum.

LAUNCHED THE THIRD ESTONIA-LATVIA ELECTRICITY INTERCONNECTOR
A new electricity connection between Estonia and Latvia was launched on August 25 by the respective electricity system operators Elering and AST. It is a further step in synchronising the Baltic with the continental European network.
The project will facilitate the integration of renewables into the grid, it will contribute to reducing EU greenhouse gas emissions, and besides, it will alleviate the long-lasting congestion at the border between Estonia and Latvia, which has caused significant price differentials.
The total cost of the construction was €172 million, of which €112 million was financed from the EU budget through the Connecting Europe Facility.