EUABOUT
WEEKLY
SELECTED
Today we talk about REGIOSTARS 2021, the approval of the Recovery and Resilience Facility, and the New Agenda for the Mediterranean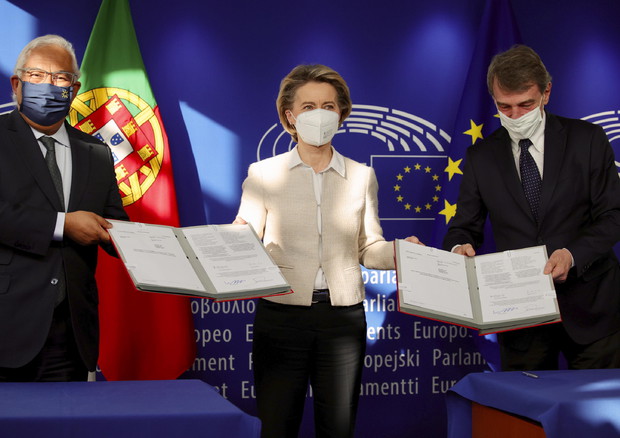 Portuguese PM Antonio Costa, EC President Ursula Von Der Leyen and EP President David Sassoli signing the Recovery and Resilience Facility
EC LAUNCHES THE 14TH EDITION OF THE COHESION POLICY'S COMPETITION REGIOSTARS
On February 9, the EC launched the 14th edition of REGIOSTARS, the competition that since 2008 rewards the best projects funded under the Cohesion Policy, namely the EU strategy to promote and support the 'overall harmonious development' of its Member States and regions, with a particular attention to slow growth areas.
The beneficiaries of cohesion policy's funded projects can apply to the competition in one of the five thematic categories, relating smart, sustainable and inclusive growth, urban development and a topic of the year, that for this edition is "Enhancing green mobility in the regions: European Year of Rail 2021".
Commissioner for Cohesion and Reform, Elisa Ferreira, commented, "we want to show how local and regional cohesion policy projects are key to contributing to the EU's top priorities of a smart, green and fair economy for all" and also that "citizens are at the heart of cohesion policy."
EP AND COUNCIL APPROVE RECOVERY AND RESILIENCE FACILITY: MEMBER STATES' RACE FOR FUNDS ALLOCATION BEGINS.
Both the Council and the European Parliament finally adopted the Recovery and Resilience Facility: heart of the EU Recovery plan, it consists in €672.5 billion worth grants and loans addressed to EU member states, to be spend in public investment and reforms.
The regulation, which covers six policy areas (green transition; digital transformation; smart, sustainable and inclusive growth; social and territorial cohesion; health, economic, social and institutional resilience; policies for the next generation), will be fundamental to overcome the effects of the pandemic, to improve the resilience of EU economies, and to foster the green and digital transitions.
The program will enter into force from the second half of February, thus Member States should submit their national plans to the European Commission within April 30, 2021. Indeed, in order to receive the funds, Member States' plans must be assessed and approved by the EC, and implemented by 2026.
With reference to the facility's approval, the President of the EP, David Sassoli, expressed his satisfaction and called on Member States' National Parliament "to speed up and start immediately an instrument fundamental for European citizens, stating".
NEIGHBOURHOOD POLICY: EU LAUNCHES THE NEW AGENDA FOR THE MEDITERRANEAN
On February 9, the European Commission and the High Representative adopted a joint communication proposing an ambitious and innovative new Agenda for the Mediterranean, in order to relaunch and strengthen the strategic partnership between the EU and its Southern Neighbourhood partners.
The new Agenda includes an Economic and Investment Plan providing for the allocation of up to €7 billion for the period 2021-2027 to foster the long-term socio-economic recovery in the Southern Neighbourhood and incentivizing public and private investments in the area.
At this regard, the High Representative Josep Borrell said: "A strengthened Mediterranean partnership remains a strategic imperative for the European Union. We need to renew our mutual efforts and act closely together as partners, in the interest of all of us. This is what this new Agenda is all about."