EUABOUT
WEEKLY
SELECTED
This week we talk about the EU Cybersecurity measures for 5G, the Humanitarian Aids for Afghanistan, and EP contribution to the Action Plan on Circular Economy.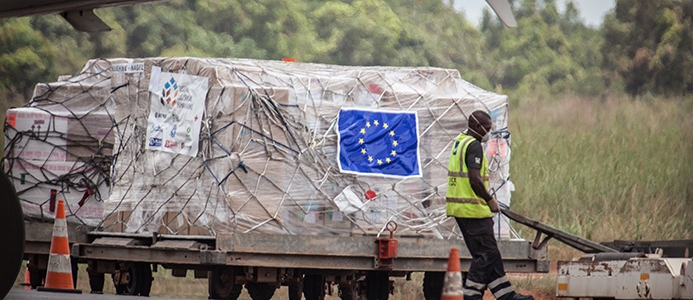 EU COMMISSION CALLS FOR ENISA TO DEVELOP A COMMON EUROPEAN CYBERSECURITY SYSTEM FOR 5G NETWORKS
the European Union Agency for Cybersecurity (ENISA) has been appointed by the EU Commission for the preparation of the EU Cybersecurity Certification System for 5G networks, aiming at
addressing the risks related to technical vulnerabilities of these networks and further strengthen their security. Albeit several security certification systems in Europe for IT products are already in place, a single common certification system would bring advantages both for companies and for customers, allowing the firsts to simplify cross-borders trading and the second ones to understand better the security features of a given product or service. The development of the common system not only complies with the EU Cybersecurity Regulation, but is also in accordance with the new EU Cyber Security Strategy for the Digital Decade.
EU DEVOLVES €32 MILLION TO AFGHANISTAN FOR HUMANITARIAN AID
Janez Lenarčič, Commissioner for Crisis Management, has recently visited Kabul in the context of the 2020 Afghanistan Conference, aimed at the pacification of the country and supported by the EU. Indeed, during the visit, the Commissioner announced the allocation of €32 million in humanitarian support to assist the civilians affected by the conflict by 2021. This emergency support will help EU humanitarian partners to deliver basic assistance such as life-saving healthcare and protection services, including food and emergency shelter, education in emergencies to those affected by conflict, disasters, and epidemics. The situation of the country, which stands in a state of perpetual conflict for decades, is indeed still critical, with more than 6000 people killed or injured in 2020 and has been overall aggravated by the pandemic.
MEPs CONTRIBUTION TO EU ACTION PLAN ON CIRCULAR ECONOMY
On March 2020, the EU Commission has put in place the Circular Economy Action Plan, in compliance with the Green Deal's goals set out in order to reach climate neutrality by 2050. The plan, which focuses on waste prevention and management, has been lately enriched by a proposal of the EU Parliament's environment committee, which calls for the fulfillment of a series of binding objectives on materials use and consumption by 2030. Moreover, within the context of the Circular Economy Action Plan, MEPs also support initiatives to strengthen consumers awareness on the right to repair, namely the right of consumers to be properly informed about the environmental impact of the products and services they buy. Finally, MEPs asked the Commission to make proposals to fight so-called greenwashing, the hideous practice of companies presenting themselves as more sustainable and eco-friendlier than they really are.