---
EU-27 MEETING IN BRATISLAVA
---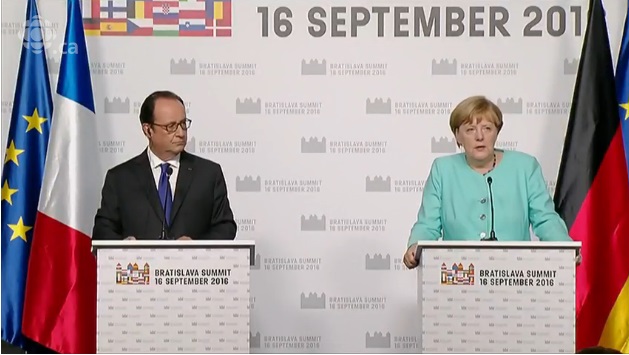 The Heads of Governments of the EU member states were gathered -for the first time without the UK representative- for an informal meeting on the 16th of September. Fiscal Policy, international trade, Brexit, as well ashot topics such as the common defence or migration were on the official agenda with the aim to draw the road map to be followed by European Governments over the next 12 months.
Together with the Slovak Prime Minister Robert Fico and the President of the European Council Donald Tusk, Jean-Claude Junker expressed its satisfaction concerning the firm support Member States have announced regarding the new initiatives declared in his speech about the State of the Union.
More particularly, Junker highlighted a unanimous backing concerning the pace recently adopted with regards to the promotion of the EU's Digital Single Market. These measures should foster Europe's "modernisation, economic growth and creation of new jobs" the President said. EU leaders also approved the commission's propositions aiming at increasing the amplitude of Europe's investment plan, which has already mobilised €116 billion during the first year of its implementation.
Concerning the migration crisis, Junker confirmed that the EU is already implementing measures in order to respond to the request of Bulgaria, which has to face increasing pressure on its frontier with Turkey. The President affirmed that, in addition to material support aimed at protecting the frontier from illegal migration, the Union will provide €108 million in emergency funding in order to strengthen Bulgaria's reception capacities. The objective is to raise this figure to €160 million in the coming weeks in order to fully respond to the needs of the Bulgarian government.
reference: http://ec.europa.eu