EUABOUT ATTENDS… "Towards a European industrial renaissance?" Online Event by Bruegel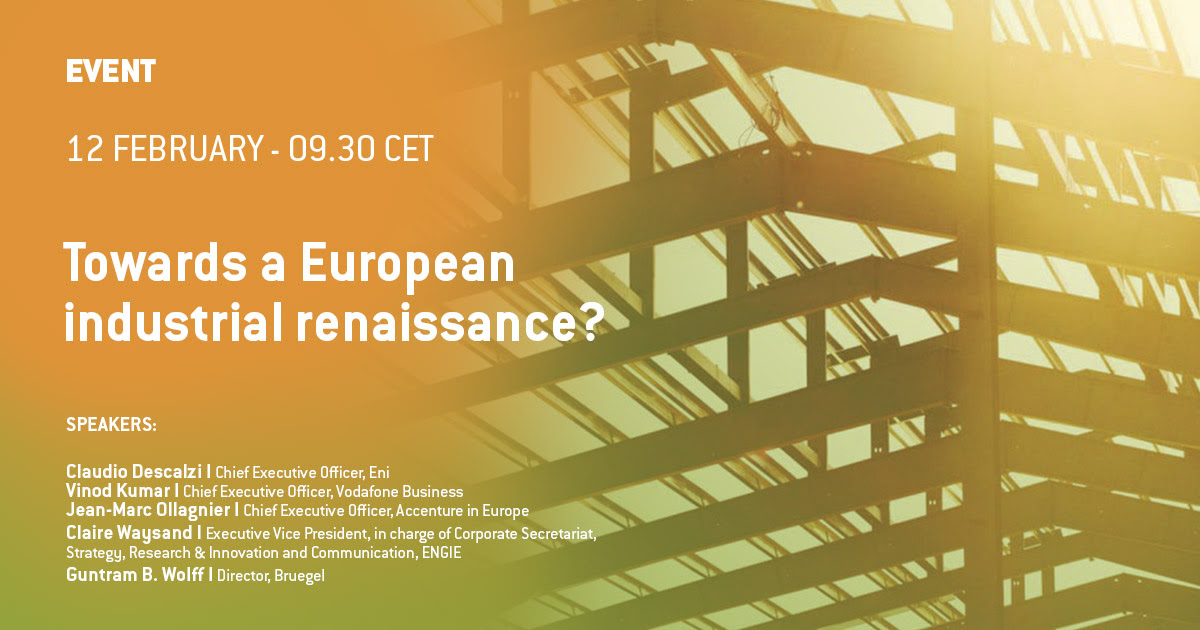 On February 12, we attended the online panel debate "Towards a European industrial renaissance?" by Bruegel, European think tank based in Brussels specialized in economic issues.
In the online arena, policy makers and experts held an intense debate on some of the most important trends crucial for the EU's industrial policy and its "modernization", such as digitalization and climate change.
All the speakers shared optimism for what concerns the European Industrial Recovery, made possible thanks to the European Commission's gigantic efforts, supported by the intrinsic peculiarity of the European Industrial System, which is constituted by both big and niche industrial player, making the whole system more resilient by itself.
About digitalization and connectivity, the Chief Executive Officer of Vodafone Business, Vinod Kumar, focused on the impact of 5G, especially on SMEs, being this system able to unlock more opportunities for businesses, in terms of faster connectivity and for the creation of technologies. Moreover, he pointed out how the pandemic have proved the fundamental importance of digitalization and connectivity, suffice it to think to teleworking, therefore it is necessary implementing policies and fostering investments in the sector.
Both Jean-Marc Ollagnier, Chief Executive Officer at Accenture in Europe, and Claire Waysand, Executive Vice President, in charge of Corporate Secretariat, Strategy, Research & Innovation and Communication at ENGIE, have highlighted the importance of updating the European Industrial system in compliance with the goals of sustainability, in order to make Europe greener and world leader in the fight against climate change. Indeed, the covid-19 induced crisis was able to raise awareness about the urgence to correct the unsustainable path most European countries were following. Indeed, encouraged also by the Next Generation EU, most European countries are converting towards de-carbonizing their economies, thus they have strongly invested in Green hydrogen, solar systems, circular economy and other green technologies. However, Waysand does not forget to mention that especially in Eastern Europe the path towards CO2 reduction and green energy is slower and more complex, being countries largely reliant on coal. Therefore, she suggests that one way to quickly, and affordably, convert Eastern Europe's economies could be investing in gas, which is becoming greener thanks to research and investments in this field.
In conclusion, all the speakers agree that there is a prosperous future for Europe to advance in terms of digitalization and sustainability. In addition, in order to make businesses competitive worldwide, investing in technologies, infrastructure and human capital is fundamental now more than ever.