EUABOUT ATTENDS… "Europen Green Deal and Circular Economy" By Altovalore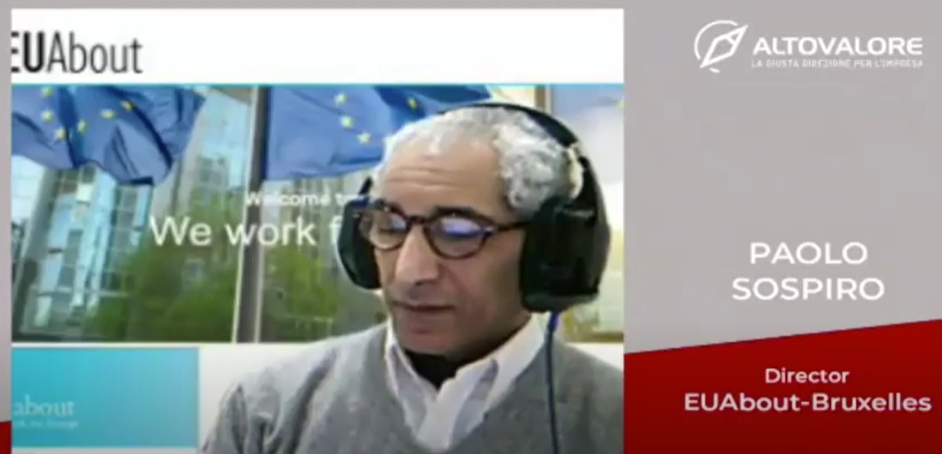 Photo: Paolo Sospiro (EUAbout Director)
On February 4, the first webinar of the series "il futuro non è più quello di una volta" (the future is no more the same), namely "Europen Green Deal and Circular Economy", took place online via Zoom.
The online event is sponsored by Altovalore, a consultancy with more than 25 years of experience in addressing SMEs' management, thanks to a team of more than 50 skilled employees, working in perfect synergy. The aim of Altovalore with this online cycle of webinar is to offer a general framework on the issues relating to the Green Deal, digitalization and M&A to the public, thanks to the collaboration with experts -partners of Altovalore- in these fields.
Among the speakers of the event "Europen Green Deal and Circular Economy" there were the founder of Altovalore, Pierluigi Milantoni, Carlo de Grandis, Policy Officer at the DG Climate of the European Commission, and EUAbout's director Paolo Sospiro, as well as Alessio d'Amato (Associate Professor at Università Tor Vergata-Rome), Sandro Bertini (President of Plados & Delta Srl), and Giancarlo Calai (Process Engineering AT4M Srl).
According to the experts present at the event, central point of the discussion for the next few years is the so-called "Global Green Deal": the European Commission is committed to invest trillions in circular economy, as well as in the reduction of pollution and the recovery of biodiversity. Indeed, the common goal for EU is to achieve zero emissions by 2050, in compliance with the terms of the Paris Agreement involving 196 countries and recently joined again by the USA.
The EU has already a plan of action, enriched by a proposal on a European climate law providing for the transformation of this political commitment into an authentic legal obligation throughout a policy based on the taxation of environmental damage, in brief: "the polluter pays".
Furthermore, in order to achieve climate neutrality, it will be crucial the cooperation among European economic sectors, starting from companies, in particular SMEs. Only 2% of modern businesses have an environmental certification witnessing a commitment to sustainability, therefore it is crucial providing for a growing number of firms representing a model in terms of sustainability. In this regard, the EU will encourage business models relying on the concepts of eco-design and eco-innovation, in order to foster the creation of sustainable products based on the idea of circular economy, thus firms can reduce their environmental impact.
Nonetheless, the EU defines high standards for companies interested to invest in sustainable projects. For this reason, seen EU internal market's high competitiveness , it will be more and more fundamental for SMEs to be updated and aligned with the new European directives, as underlined by our director Paolo Sospiro. ,The conclusion of the event has seen the speakers forecasting the feasibility of a greener Europe made by environmentally committed firms: in 2021 -identified by the European Commission as the year of the "green" turning point- "Sustainable products should be the norm, not the exception"
If you've missed the webinar or you just want to know more about the topic discussed, you can watch it on YouTube at the following link:
https://www.youtube.com/watch?fbclid=IwAR0kV8qtOJGmuqqsNwDSz5hPE8EKaXwbED59_O2IO9h6UUVnYpzrdQ_Bgyg&v=OEDULsnpTTE&feature=youtu.be
LANGUAGE: ITA