Businesses believe market forces will save the climate
Brussels November, 17th 2016
---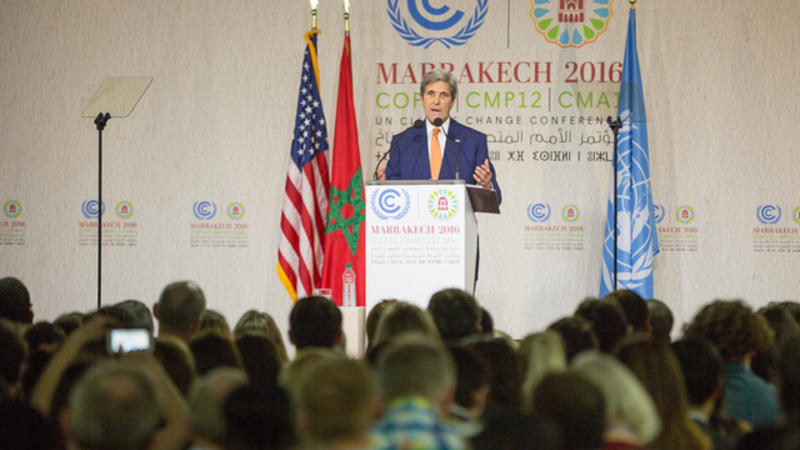 Donald Trump's election may have caused something of an earthquake among the climate negotiators at the COP22, but the mood in the business community is considerably calmer.
In a speechthat stole the show at the Marrakesh climate conference on Wednesday (16 November), United States Vice-President John Kerry sought to reassure the international community that the US could still meet the objectives it agreed to in Paris.
"Today our emissions are being driven down because market-based forces are taking hold all over the world," Kerry said.
"Most business people have come to understand: investing in clean energy simply makes good economic sense," he added, even if the private sector is "demanding even stronger signals" from governments.
A coalition of 365 American businesses drove this message home, using the occasion to launch an open letterto Donald Trump demanding that the US continue its action on climate change.
"We, the undersigned members in the business and investor community of the United States, reaffirm our deep commitment to addressing climate change through the implementation of the historic Paris Climate Agreement," the businesses wrote in a letter to the incoming US president.
Gilles Vermot Desroche, a member of the coalition from Schneider Electric, insisted on the fact that businesses hate uncertainty. "For a business, taking care of the planet and the future is also taking care of that business' future," he said.
But in the COP22's 'green zone', reserved for the conference's non-governmental participants, the debates and other events are going on as if nothing had changed. The idea that Trump, as a businessman, must be in favour of clean energy and innovation, appears to have reassured other business leaders that the Paris Agreement is in safe hands.
Is the low carbon transition credible?
The billionaire's famous cynicism has left some unconvinced. "The new American president has the banks on his side, seduced by the promise of Wall Street deregulation. He will ask them to stop putting downward pressure on oil prices, so they will rise again, which will play into his own hands. But also those of the climate, paradoxically," a French expert said.
At $45 per barrel, the price of crude is low even compared to the previous decade. But this is one of many areas in which Trump's campaign pledges have been contradictory.
His promises to boost coal mining and shale gas extraction are hardly compatible with a rise in the price of crude oil. After all, energy demand is finite.
And in the long term, the low cost of renewables is a more convincing business argument than their environmental credentials.
"The success of the Paris Agreement is also down to the fact that sustainable development and low CO2 emissions represent a credible business model," said the expert Sir Nicholas Stern, who has authored several important works on the climate.
He added that Canadian local authorities and businesses did not abandon their emissions reduction efforts when their national government quit the Kyoto Protocol.
"Life goes on in the private sector," said Stéphane Hallegatte, an economist at the World Bank. "Businesses are used to living with political change. Four years of Trump will be short compared to the reality of climate change."